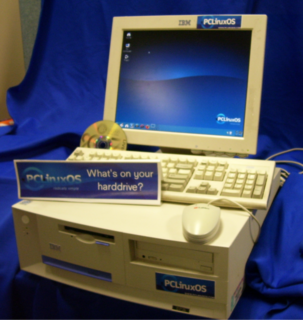 Specs:
Intel Pentium III, 900MHz
Intel chipset with onboard graphics and LAN
256Mb RAM, 20GB IDE HDD, 40x CDROM, 15" TFT LCD
keyboard, mouse and a fresh
PCLinuxOS 2007
LiveCD.
[
source
]
Berani beli dengan harga RM500?
Sebenarnya bro
Aizat
yang meminta saya mengkaji dan menulis review tentang
PCLinuxOS
.Terlanjur membaca sehingga mata saya terpaku
pada gambar diatas.Sebenarnya saya tak tahu apakah harga yang ditawarkan berpatutan atau tidak.Bagaimana pendapat anda?

Apa itu PCLinuxOS? Ianya satu lagi sistem operasi berasaskan linux seperti juga ubuntu. Adakah ia sehebat ubuntu? Untuk menjawab soalan ini, izinkan saya

quote

2 baris ayat tulisan seorang penulis howtoforge,

Up to now I was thinking that Ubuntu is the best Linux desktop distribution, but I'm not so sure anymore now that I've used PCLinuxOS. I'm really impressed.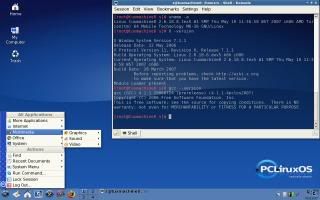 Ciri-ciri?
-Percuma
-KDE Desktop Environtment dan boleh ditukar kepada Gnome(?).
-Sokongan driver sepenuhnya (senang setup network, support wireless etc)
-Dilenkapi dengan engin grafik hebat,beryl (perlu ada grafik kad)
-Didatangkan dengan pelbagai perisian percuma terinstall secara default.
(OpenOffice.org,Firefox,Amarok, MPlayer, Kaffeine, Frostwire, DeVeDe, TVTime, Flash,Java JRE,GIMP, GQView, digiKam, Kalbum,XChat, Kopete, Thunderbird, TightVNC, K3b, Krusader, GKrellM, SearchMonkey...)
-Keupayaan untuk

mount

partition windows berformat NTFS
-Kestabilan yang tinggi
-dan banyak lagi

Menurut Susan Linton, penulis di Linux.com, PCLinuxOS telah di"

make-up

" berbulan-bulan untuk menyediakan pengguna sebuah sistem operasi yang bukan sahaja percuma, berprestasi tinggi, mesra pengguna, tetapi juga mempunyai grafik dan paparan antara muka yang menawan dan mengagumkan.



Kelayakkan minimun komputer?


Erm, 256MB RAM dan Pentium III kot.(sebab laman web PCLinuxOS tak nyatakan secara jelas)



Cara Install

?
http://www.howtoforge.com/the_perfect_desktop_pclinuxos_2007



Pernahkah saya mencubanya?


Belum..
......





Sila klik disini untuk melanggan artikel terbaik daripada melayubuntu terus ke mailbox anda!-Powered by FeedBurner