Ubuntu Tweak(UT) adalah satu aplikasi perisian untuk memudahkan pengguna ubuntu configure(menyusun?) system ubuntu mereka.Ia menyediakan banyak pilihan yang berguna untuk desktop dan sistem ubuntu yang tidak disediakan oleh ubuntu secara default.
Antara ciri dan fungsinya;
- GNOME Session Control
- Show/Hide and Change Splash screen
- Show/Hide desktop icons or Mounted Volumes.
- Show/Hide/Rename Computer, Home, Trash icon or Network icon
- Use Home Directory as Desktop
- Compiz Fusion settings, Screen Edge Settings, Window Effects Settings.
- GNOME Panel Settings.
- Nautilus Settings.
- Advanced Power Management Settings.
- System Security Settings.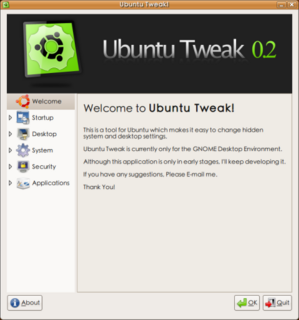 Keistimewaan perisian ini adalah, ianya dicipta untuk memudahkan pengguna ubuntu yang masih baru dengan suasana ubuntu untuk meningkatkan prestasi, configurasi, dan environment ubuntu itu sendiri.Jika diluar sana ada tweakvista, tweakxp, windows utilities dan sebagainya, kini pengguna ubuntu ada Ubuntu Tweak, yang sudah pastinya menjadikan ubuntu lebih "user friendly" kepada pengguna ubuntu yang baru.
Cara memasangnya? / How to install Ubuntu Tweak?

Hanya perlu pergi ke website ubuntu-tweak, kemudian download .deb file yang menepati sistem komputer anda dan double klik pada .deb file yang didownload tadi.Sila pastikan gdebi package installer sudah terinstall terlebih dahulu sebelum double clik.Untuk pengguna ubuntu Gusty, gdebi biasanya dah terinstall semasa proses installasi ubuntu.

Change Ubuntu Splash Screen?

Saya telah menggunakan Ubuntu Tweak ni bagi menukar splash screen bagi ubuntu.Jika ini splash screen ubuntu yang default;




Saya menukarnya kepada ini;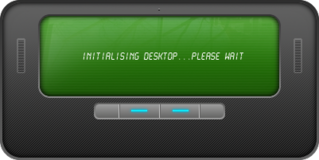 Download splash screen ini;



Kemudian buka Ubuntu Tweak ( selepas install > pegi ke menu > system tools) > startup > session control
Kemudian click

pada

image splash dan cari file image yang anda download tadi.Jelas?Kalau tak jelas gambar dibawah ini akan lebih menjelaskan ;)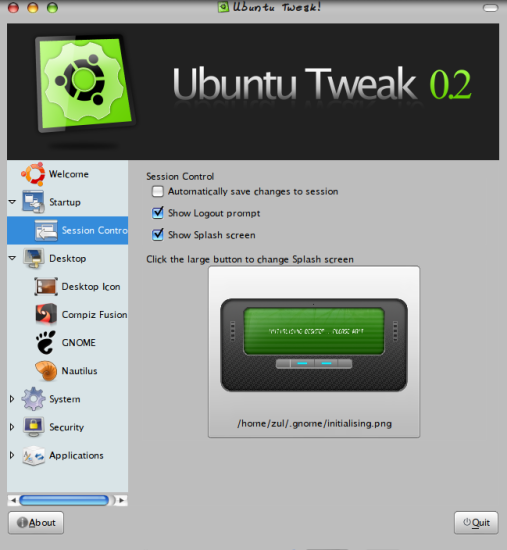 Untuk melihat hasilnya, restart pc anda

atau

restart gnome (tekan Ctrl+Alt+Backspace 2x)

Layan..

Spread linux to the masses!Yeah!