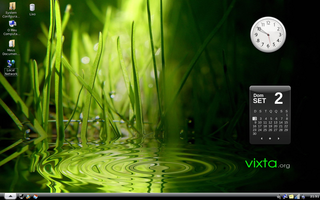 What is
vixta
? Kita mengenali vista dengan cukup dekat.Malah ramai juga yang mengenali linux dan berpeluang menggunakannya.Bagaimana jika kedua-duanya digabungkan dan dibangunkan satu OS berasaskan kedua-duanya yang percuma untuk digunakan oleh pengguna komputer?
Itulah vixta.Berasaskan distribusi fedora, vixta dibangunkan untuk orang yang tidak mampu menggunakan vista.Antara matlamatnya ialah;
Absolutely free, in every sense
spread linux to the "masses".
ABN - AbsolutelyNo Config.
User-Friendly.
Eye-catching.
Familiar look and Feel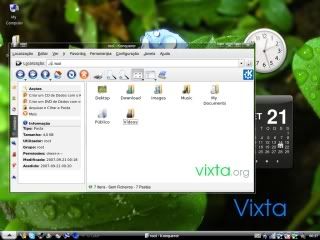 Vixta disertakan dengan;
FC8 packages.
ClamaAV Anti-Virus
Windows Shares with smb4k
Partition tools with gparted
Kdegraphics
kdemulimedia
Saya tidak pernah menggunakan fedora sebelum ini namun instinct saya kuat untuk mengatakan, semua features yang terdapat dalam fedora ada dalam vixta.

Saya agak teruja dengan OS vixta ini dan telah mendownloadnya dan diburnkan kedalam dvd(filenya agak besar) menggunakan perisian k3b.Lantas saya masukkan dvd image tadi ke dalam disk dan boot ke dalam Live DVD.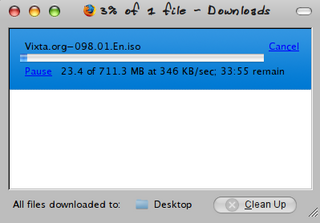 Saya tidak pernah menggunakan fedora sebelum ini dan sebab ini mungkin mempengaruhi impresi saya berkaitan vixta.Setelah agak lama bermain-main dengan vixta dalam live dcd, saya rasa agak kekok dan tidak dapat merasai ciri-ciri "user friendly" yang dijanjikan.Mungkin saya masih lagi tidak biasa dengan OS ini.

Mungkin masih "banyak" yang perlu dilakukan untuk linux dan vista benar-benar dapat digabungkan.Jika ditanyakan kepada saya, saya masih tetap memilih ubuntu ;)

Apapun, mesej jelas daripada warga baru dunia linux,vixta,yang dapat kita fahami ialah

spread linux to the masses

.Yups, saya bersetuju dengannya.